Panama City Beach & Panama City are well known as one of the top launch points to head into the Gulf of Mexico for offshore fishing and to pursue some of the best game fish to be found anywhere in the world.  Many of the desirable fish species can be found fairly close to shore, this includes Red Snapper and a wide variety of other snapper species, Grouper, King Mackerel, Mahi, Amberjack, Flounder, Cobia, and many others. 
Near shore there are many artificial structures to choose from (more than you could possibly fish in one or two days) that will hold plenty of fish to keep you busy!   Venture out 20 to 100 miles and the game substantially changes.  The farther offshore you go means fewer boats, more fish, deeper water species to target, and countless trolling opportunities for Marlin, Tuna, Wahoo, King Mackerel, Mahi, and more.
Bottom Fishing

Find just about any structure, natural limestone bottom or drop off out in the Gulf and you will find plenty of fish off Panama City Beach.  Modern Sonar and GPS technologies certainly make the task of getting on the fish much easier as well as getting you back to a known great spot to fish it again.  Go Here if you are looking for a starting point for coordinates, Our area has plenty of easily reached artificial structures.  Offshore bottom fishing here is one of the most easy ways to fish, even for first timers and kids.  Drop a line with live shrimp, Squid, Cigar minnow or other small live bait, or Jig and you will be hooked up in no time!  Use larger baits and you will find larger fish!
Suggested Gear
Getting to the spot is one thing, getting the fish in the boat is another so you will want to be prepared with the right gear.  You just don't know what might hit your bait or jig when it hits the bottom so be sure the gear you use is up to the task.
Rods & Reels
Natural bait fishing – conventional style reels with medium-heavy to heavy rated rods are suggested with at least 50lb – 80lb test line.  Jigging is best accomplished using a shorter medium-heavy to heavy rated rod with a spinning reel spooled up with at least 50lb line.
Terminal Gear
Fairly simple, you will need a variety of egg weights to keep you on the bottom depending on currents and wind.  3oz – 16oz
Swivels & Leader (40lb – 100+lb depending on what species you are after)
A variety of hook sizes, again depending on the size of the bait you are using and type.  Circle hooks are required when using natural bait
For a simple tried and true set up see the image below.
Jigs, This is a very productive way to encourage the bottom dwellers to strike, Jigs come in all kinds of styles and weights and we stock a wide variety.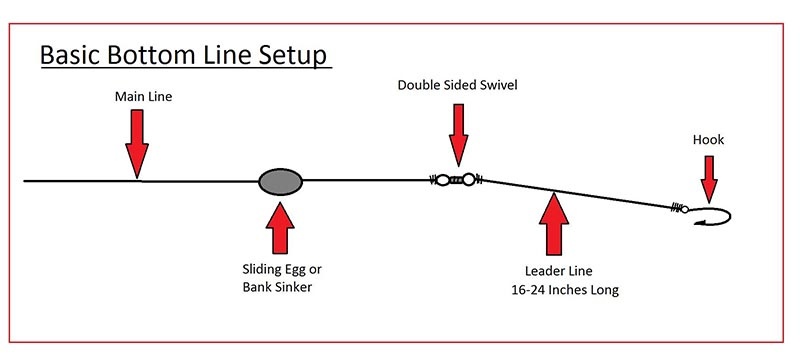 Do Some Trolling
This method is the to go to for chasing down the pelagic predators such as King Mackerel, Mahi Mahi, Tuna, Wahoo, and Marlin.  There are literally hundreds of different rigs that can be used and every seasoned fisherman has their preference for what to use as well as how fast to use them.  One of the simple ways to get started would be to troll with a live cigar minnow attached to a basic king rig, these can be used with or without a duster. Using these basic rigs will produce plenty of strikes from Kings, Mahi's, and others. (See Illustration below)   See our staff to step it up from there to get the right gear for going after the other BIGGER species.
Where to Troll
Trolling around just about any structure that you might also bottom fish can produce fish, structures attract the fish as well as the predators.  With a good sonar you will see where in the water column these fish are, use some weight to get to them and it's always good to keep a line or two along the surface.   Other areas to look for are concentrations of seaweed or fairly often you will see it forming a line where currents mix, don't pass that up!  Other areas where you can see currents mixing, flying fish, and/or birds would also be where fish can be found.
Go Deep
Deep Dropping – Something not a lot of folks do but can result in putting some great meat on the table!  This type of fishing will require a boat that can get you out to where these fish live which means a long run out (and back), typically 50 – 100 miles as well as some specialized equipment and terminal gear to do it right and be successful.
In the dark depths of the Gulf you will find quite a few different species such as Golden Tilefish, Snowy Grouper, Yellow Edge Grouper, Warsaw Grouper, Longtail Sea Bass, Scorpionfish , and quite a few other species… you never know what you might bring up!
Suggested Gear
When fishing from 400ft to around 1200ft you will need to have the right gear to find success!
Rods & Reels
Since you never know what you might hook at these depths it is highly recommended that you use a heavy rod along with a reel with plenty of line capacity.  An electric reel is ideal here, think about hand cranking a 150lb fish up from 1000ft! Both Shimano and Diawa have some excellent electric reels along with some great rods to match them to.
Terminal Gear & Bait
Since you will be far from shore and Florida Watersports, go well stocked with pre-made rigs, which will keep you going if you get bit off or fish damage your leaders.  3-5 hook rigs should be made with at least 200-400lb test line, heavy duty 3 way swivels or Sea Striker Sleeve swivels, heavy duty snap swivels, line sleeves, large circle hooks, and a good crimper.  Other beneficial items will include glow in the dark crimp protectors, glow beads, and a light to attach above the rig.  Light will help attract the fish!